Custom Picket & Ranch Style Fencing for Your Home
Everyone has a dream for how their home should look. From the interior design to the color of the window shutters and the flowers in the yard, your home means more to you when it looks just right. So if your dream includes a custom wood fence, Dickerson Fencing can help.
Our family has more than half a century of experience in designing and installing residential wood fences of all shapes and sizes. No matter your vision and budget, we can give you a fence that fits it perfectly.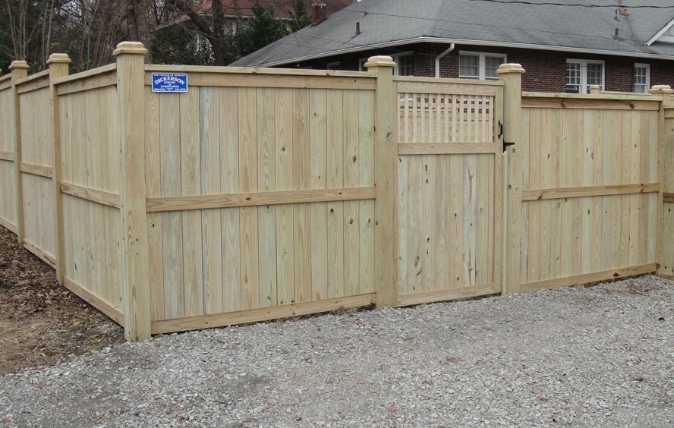 Wood Picket Fences
Nothing says classic like a picket fence. Your home will look pretty as a picture surrounded by wooden pickets from Dickerson Fencing. We offer a variety of options, including tall and tight for privacy, short and spaced for curb appeal and everything between. Your vision can be a reality with Dickerson on the job. Call us to schedule your FREE fencing consultation today!
Ranch Style Fences
If you value a more rustic look and don't want to block out your views, a ranch style fence may be the perfect solution for your home. We offer a variety of options, including split rail, board fences, cross-buck styles, and more! We can attach welded wire or chain link to provide you with the same great security benefits without sacrificing aesthetics. Add to the beauty and charm of your home with a custom-designed ranch fence from Dickerson Fencing.
Privacy Fences
For the most security and privacy, a wood privacy fence may be right for you. Whether you are looking for a standard dog ear privacy fence, or a custom fence with a decorative topper, Dickerson Fencing can help you design the privacy fence that meets your needs and budget. Whether you are looking to secure children and animals or block out unwanted views, Dickerson Fencing offers a variety of full and semi-privacy fences to meet your needs.
Local Family Serving Local Families
Founded in 1960, Dickerson Fencing has been a locally-owned family business for three generations. We offer exceptional attention to detail and use only the highest quality materials to fulfill the needs of our customers. Complete your dream home with a fence that represents your aesthetic. Call us to get started on your home fencing project today!