Turn Potential Hazards Into Assets
North Carolina is a beautiful area with forested hills and rivers, but our beautiful landscape can create hazards on sloping driveways, roadways and greenways. That's why Dickerson Fencing offers sturdy and attractive guard rail systems to provide a safety barrier if your property has steep inclines or embankments.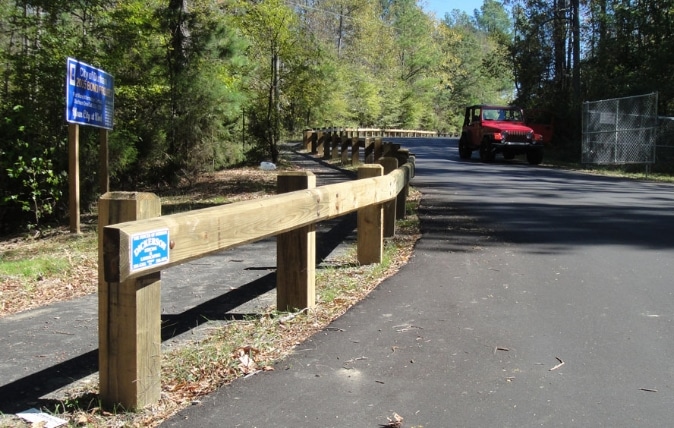 Where Do You Need Guard Rails?
Steep Driveways & Roadways — Whether it's a hilltop shopping area or a scenic drive through a state park, if your hardscapes are bordered by a steep incline, you need to install guard rails to prevent rolling off or sliding.

Highways — Even on flat land, divided highways should always have guard rails to minimize damage and traffic interruption in the event of a car accident.

Bridges — Guard rails are necessary on bridges to clearly define the edges of the bridge and prevent rolloff, especially in areas prone to foggy conditions.

Hiking Trails & Bike Paths — Greenways and paths for hiking and biking are more susceptible to washouts during inclement weather, so it's important that they be outfitted with high-quality guard rail systems to protect the bikers and pedestrians using them.
Whatever reason you have for installing guard rails on your property, Dickerson Fencing has the skill and experience to provide exactly the right protective barrier system for your needs. Call us to schedule your FREE design consultation today.
Local Family Serving Local Properties
Founded in 1960, Dickerson Fencing has been a locally-owned family business for three generations. We offer exceptional attention to detail and use only the highest quality materials to fulfill the needs of our customers. We are members of the American Fence Association, the Better Business Bureau and the Durham Chamber of Commerce. Call us to get started today!