Temporary Panel Fences for Versatility & Practicality
Dickerson Fencing knows are many types of construction project, and that's why we offer many options for site security. For projects that are expected to wrap up quickly, you don't need a long-term solution; you need fence panels.
Panel fencing is a cost-effective and highly versatile fencing solution that works for many construction projects. Contact Dickerson Fencing for a FREE fencing consultation today. We'll discuss your project and set you up with a fence plan that works for you.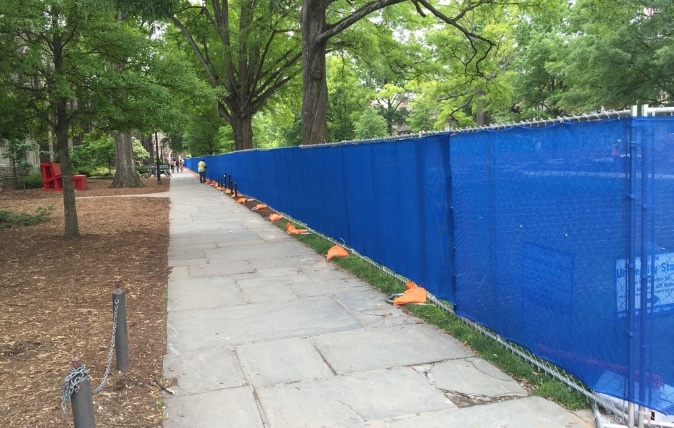 The Benefits of Installing Fence Panels
Convenient — Easy to move as your needs change, panel fences are an excellent option for projects that require a highly customizable fence solution.

Security — From protecting construction equipment to providing crowd control at special events, panel fencing is the affordable security solution you're looking for.

Low Maintenance — Fence panels are made of galvanized steel to make them resistant to rust, corrosion and weather damage.
Dickerson Fencing has provided local construction sites with high-quality fence panels since 1960. No matter what your construction fencing needs are, we can design a fence system that meets them. Call us to schedule your FREE design consultation today.
Call The Fencer of Durham Today
For three generations our family mission has been to provide the best fencing services available in the Durham, NC area. We have succeeded for over half a century by providing superior products and service, using only the best materials and developing lasting relationships with our clients and community. We are members of the American Fence Association, the Better Business Bureau and the Durham Chamber of Commerce.