Estate Gates Add Beauty, Security & Value to Your Home
For many Durham area homeowners, their home isn't complete with just a beautiful fence; they also need a custom estate gate and operator to complete the picture. Dickerson Fencing has more than 50 years of fencing experience and is happy to design your residential gate to meet your style and security needs.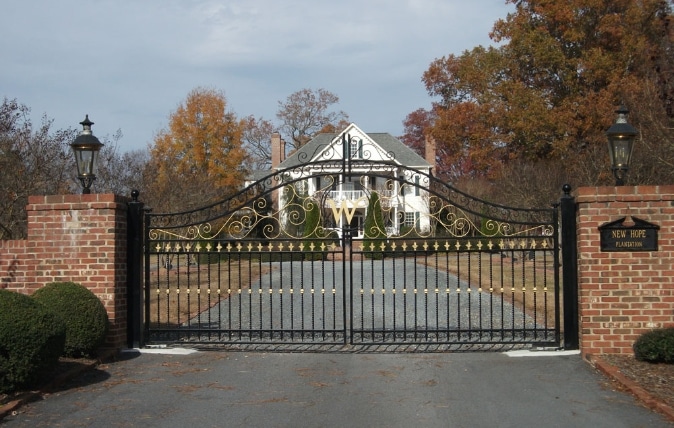 The Benefits of Installing an Estate Gate
Access Control — Not only does a residential gate look beautiful, it keeps unwanted visitors and solicitors at bay, allowing you greater privacy and peace of mind.

Increased Property Value — The addition of an estate gate gives your home an upscale, exclusive feel that makes your property more desirable and valuable to potential new owners.

Convenience — With the addition of an automatic gate opener you can open and close your estate gate with just the push of a button, making operation quick and easy.

Privacy — We can design your gate to show as much or as little of your property as you like, allowing you to set the level of privacy that suits your lifestyle and needs.
Dickerson Fencing can handle all your residential gate design and installation needs, from a simple driveway gate to an ornate privacy gate. Call us to schedule your FREE design consultation today. We look forward to going over all your options with you and helping you design the perfect gate and opener system to meet your needs.
Benefits of Choosing Dickerson Fencing
Since 1960 our family mission has been to provide the best fencing service available in the Durham, NC area. We have succeeded for over half a century by providing superior workmanship, using only the best materials and developing lasting relationships with our customers and community. We are members of the American Fence Association, the Better Business Bureau and the Durham Chamber of Commerce.