We build and install a wide variety of residential and commercial fences, Chain Link, Wood, Vinyl, and more. We are always looking to add outstanding employees to our team.
Dickerson Fencing Co., Inc. is an Equal Opportunity Employer
It is the policy of this corporation to assure that applicants are employed, and that employees are treated during employment, without regard to their race, ethnicity, religion, gender, national origin, age, marital status, sexual orientation, gender identity, disability, veteran status, or any status protected by state or federal law
DRUG FREE WORKPLACE COMPLIANCE POLICY: Illegal drugs in the work place are dangerous to us all. We will not tolerate the illegal use of drugs in the workplace. This corporation conforms to the Drug Free Workplace Act and may require drug and alcohol testing. This policy will be enforced and applied under the laws of the federal and state agencies that issue the relevant regulations. All applicants must pass a pre-employment drug test and background check if offered a position.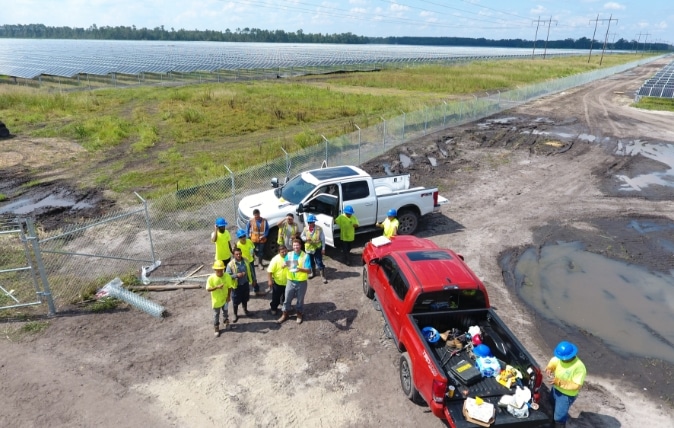 Residential Sales Associate
For over 50 years, Dickerson Fencing has offered a wide array of high-quality fences for area homeowners. The residential sales associate will be responsible for meeting with homeowners who have requested appointments for one of the company's many products at a pre-scheduled date and time.
Qualified candidates should possess excellent communication skills, reliable transportation, and have basic math skills for costing projects. Strong knowledge of consumer-driven sales practices and basic home construction concepts are preferred. We will train you on our products and services. Competitive benefits package including medical/dental/vision insurance and PTO.
Construction Field Superintendent
Dickerson Fencing is currently seeking Field Superintendents. The Superintendent will be responsible for leading crews to meet project goals in a safe manner and perform quality audits. Superintendent will work in coordination with the installation department and sales staff to ensure a positive client experience for every project.
Superintendent should have construction installation experience, working from blueprints and specifications, as well as a working knowledge of field and crew supervision. We offer a competitive benefits package including medical/dental/vision insurance and PTO.
Carpenters / Sub Contractors
Dickerson Fencing is seeking experienced carpenters and subcontractors for fencing projects throughout the Triangle area.
Qualified applicants must possess broad-based carpentry skills, with 3 yrs FENCE construction experience. Must work well independently. Subcontractors must have tools and truck, as well as a valid driver's license. Top pay for quality work.
Fence Installers
Responsible for effectively participating in a team of 2-4 members to erect fences and other barrier security products. The fence installer position is a physically demanding job working in all weather conditions and requires an individual to meet with clients at their home or business. You will need to be timely, professional and prepared. Communication and follow up not only with your clients but your internal team is paramount. Job Duties:
Lead/assist in all aspects of fence installation.

Prepare the job site for installation, which will include digging holes and mixing concrete with excellent equipment.

Load and unload tools, materials and equipment.

Operate various hand and power tools, skid steers, air hammers and/or forklifts.

Operate company vehicles in a safe manner.

Maintain excellent customer service and always put forth a positive company image.

Work outdoors in a variety of weather conditions.

Follow all safety and environmental policies of Dickerson Fencing.
Experience:
Fence or other construction experience preferred, but no experience necessary. We will train the right individual!

Ability to communicate effectively, orally and in writing, and have good overall interpersonal skills.

Ability to establish and maintain effective working relationships with others.

Must have a valid driver's license, be 18 years of age or older and have a favorable driving record.

Competitive wages and benefits package including health, dental, and life insurance, vacation and holiday pay. 
Access Control / Automatic Gate Technicians
These technicians are responsible for installing and servicing all systems/hardware related to access control to the satisfaction of our customers.
Job Duties:
Install, repair, and perform preventative maintenance on HySecurity gate operators

Repair and perform preventative maintenance on Linear OSCO, Doorking, Viking, Chamberlin Elite and other gate operators

Install, repair, and maintain gate chains, warning signs, photoelectric sensors, reflectors, safety edge sensors, exit and entrapment loops, and accompanying low voltage wiring to devices.

 

Installing, configuring, and troubleshooting radio transmitters, intercom systems, and other gate entry systems.

Install keypad, gooseneck, and low voltage wiring to the keypad.

Install gate controller and low voltage wiring.

Install and configure gate controller software on site

Cut asphalt/concrete, dig trenches, install hard and flexible conduit through walls and in the ground as needed

Fill and repair any asphalt or concrete compromised during conduit install.

Seed or mulch any disturbed landscaping during conduit install.

Troubleshoot any existing gate system faults/malfunctions.

Answer phone calls and emails from field staff regarding gate system malfunctions.

Maintain and clean work van.

Perform monthly van inventory.

Stock van with parts and materials

Teach proper preventive gate maintenance, troubleshooting, safety practices, and entry level troubleshooting to other staff members.

Perform gate inspection and preventive maintenance on existing gate systems.

Schedule and complete assigned work orders/requests in a timely manner.

Knowledge of UL guidelines pertaining to automated gates and doors.

Job requires kneeling and crouching for extended periods of time, ability to lift 75-100lbs from the ground to waist height, entire shifts of driving or standing.

Indoor and outdoor work

Work in attics, crawl spaces, and from ladders up to 20feet above ground
What do we offer in return for your knowledge, experience, and superior work ethic?
Full time steady work with the opportunity for overtime

Bi-Weekly pay
Medical/Dental/Vision insurance
Paid time off for vacations and holidays