Galvanized & Vinyl Chain Link Fence Options
Perfect for pet enclosures, pool enclosures, keeping animals out of your garden and any number of other uses, chain link fencing is one of the most versatile and affordable fencing options on the market today. Dickerson Fencing offers Durham, NC area residents galvanized and vinyl chain link fences in a variety of colors to further enhance the versatility of this classic fencing option.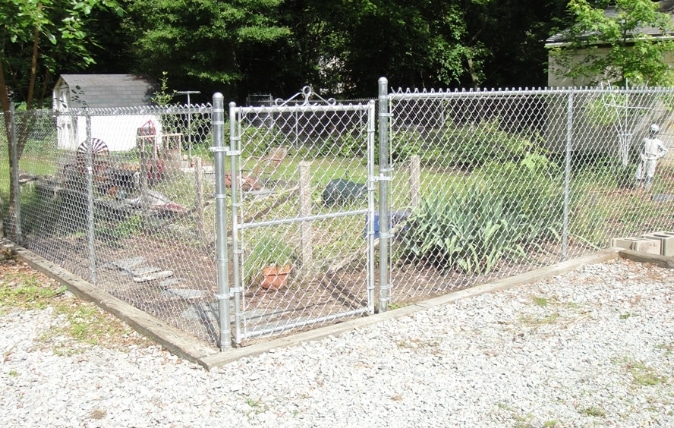 Vinyl Coated Chain Link Fences
Whether you want your chain link fence to blend into the background or stand out, vinyl coated chain link gives you the color options to meet your aesthetic. You can get vinyl coated fence in greens, brown, or black to either blend in or stand out in your landscape. Dickerson is happy to discuss your options during a FREE design consultation—just give us a call!
Galvanized Chain Link Fences
When you think of chain link fencing, you probably think of galvanized chain link. The classic silver galvanized chain link is by far the most affordable fencing option available to Durham area homeowners and offers outstanding durability and security. If you're ready to add a good, strong fence to your yard, consider galvanized chain link from Dickerson Fencing!
Local Family Serving Local Families
Founded in 1960, Dickerson Fencing has been a locally-owned family business for three generations. We offer exceptional attention to detail and use only the highest quality materials to fulfill the needs of our customers. Complete your dream home with a fence that represents your aesthetic. Call us to get started on your home fencing project today!